Welcome to Bill Wheaton's Pages.
---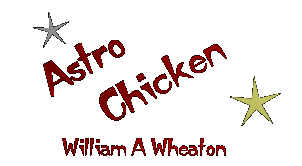 (Special thanks to Jim Evans!)
---
I am just getting started here -- more substance as time and energy permit. Meanwhile, here are
"MAD Scientist" Questions and Answers,
"Canopus" Columns (quite outdated),
Finally, a favorite quote:
Albert Schweitzer on J. S. Bach
Thanks for stopping in -- hope I'll have more up soon.
---
Go To:
Wheaton Family Pages | Bill's Work Pages | IPAC Home Page | 2MASS Home Page |

---



e-mail: Bill Wheaton

Last updated: 03/15/2008