WELCOME!
To the WWW Pages of the
William & Lucile Wheaton Family
These pages are dedicated to celebrating and binding together all the friends and family of William and Lucile, and to the use, interest, and inspiration of those who visit them.
---
~~~ Bill Wheaton died peacefully on March 10, 2002, at the age of 84 years and 16 days. ~~~

May he rest in eternal light; as in the memories of all whose lives he blessed!
---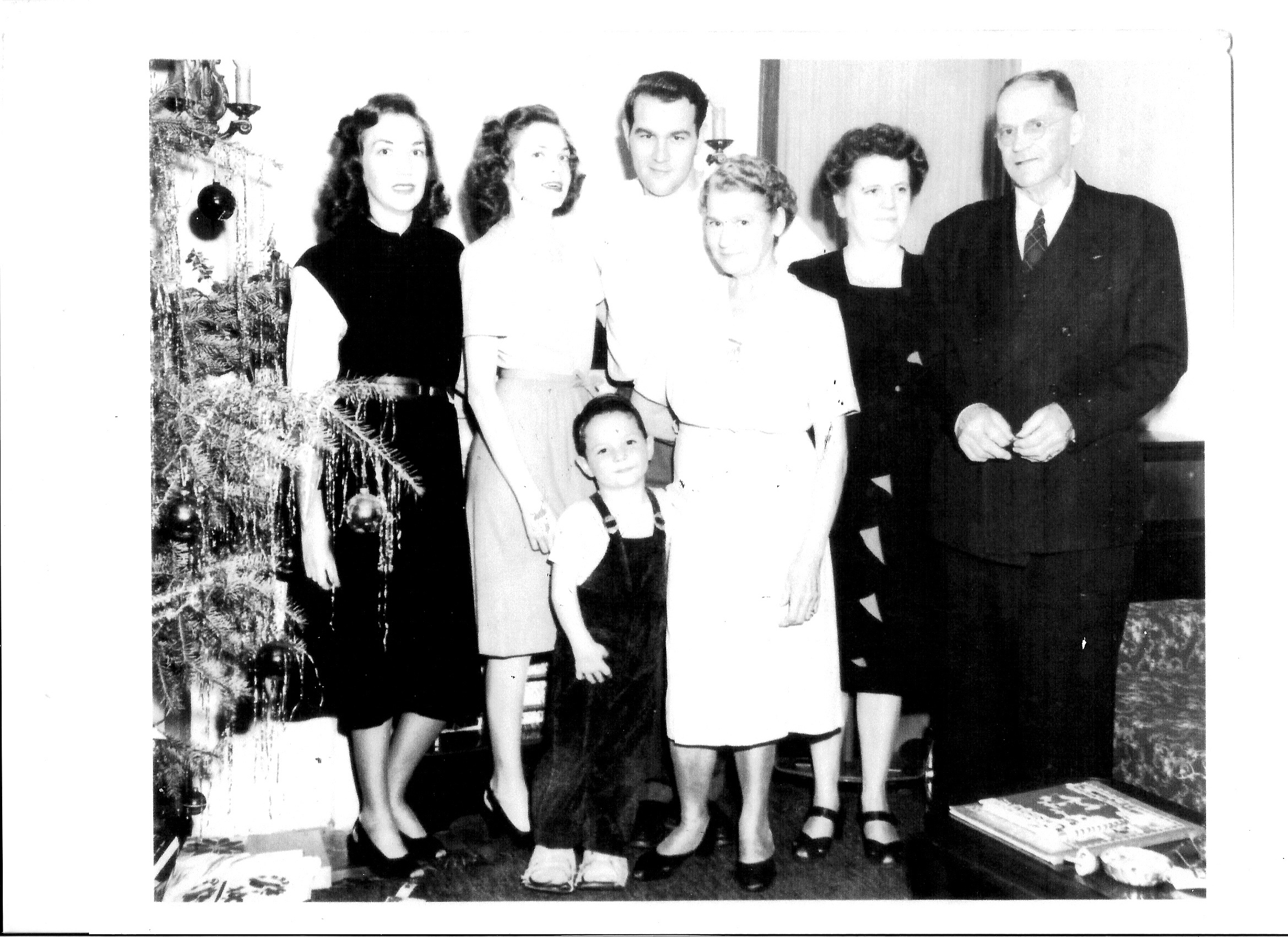 Christmas 1946. Standing, rear (L-R): Virginia Owens, Lucile Wheaton, William Wheaton, Irene Ingrahm Owens, Oscar Lee Owens.
Front: Billy Wheaton, Lydia May Decker Wheaton.
Introduction
William Wheaton (Bill) was born in Toledo, Ohio, in 1918 to Willis Oliver Wheaton, a machinist, and Lydia May Decker Wheaton ("Grammie"). He had two older sisters, Rose and Virginia. His father died when he was eight. Both sisters married, and he was raised by Grammie during the Depression. Shortly before WWII, he moved to Oklahoma City to attend college, and live with his sister Rose and her family.
Lucile Young Owens was born in Dallas, Texas and grew up in Memphis, TN, also the youngest of three children. Her father, Oscar Lee Owens, was a Baptist preacher and history professor, with a Ph.D from Johns Hopkins University. Her mother, Irene Ingrahm Owens ("Mommee"), was a teacher of piano and reading. Lucile has an older sister, Virginia, a retired librarian who lived in Oklahoma City until late 2001, when she moved to live with Lucile in California. She also had a brother Robert, who died at the age of 86 in October 2006. Until recently he lived nearby with his son Charles's family in Clovis, CA.
Bill and Lucile met in Oklahoma City, where they married in 1941, and had a son William A. Wheaton ("Billy") in 1942. After military service from 1944-1945, Bill completed his education under the GI Bill, and graduated from the University of Oklahoma Medical School in June 1950. A second son, Richard I. Wheaton ("Dick"), was born in 1951, during Bill's intership at Ancon Hospital in the Panama Canal Zone. In July 1951 the family moved to California, where Bill did a residency at Merced. The family eventually settled in McFarland (a small agricultural town about 25 miles north of Bakersfield, in the South San Joaquin Valley), where their daughter, Virginia I. Wheaton ("Ginny") was born in 1954. Bill practiced general medicine in McFarland and surgery and anesthesiology in Delano (a larger town, seven miles north), for many years starting in February 1954.
The three children attended school in McFarland and Delano. In 1959 young Bill graduated from Delano High School and went to Harvard College, where he majored in physics. In June 1962, after his junior year, he went to what was then Tanganyika, East Africa, where he ended up teaching refugees for a year before returning to graduate from college in 1964. In 1976 he received a Ph.D. in physics from UCSD in La Jolla, after a most happy life with a rich circle of friends (though perhaps for a few too many years). He married the wonderful Georgia Hale (originally of Cambridge, MA) in 1974, with whom he had worked at the refugee school in Africa years before. Their son, David H. Wheaton, was born in 1976.
After a post-doc at MIT and 15 years at NASA's Jet Propulsion Laboratory (JPL) doing gamma-ray astronomy, Bill is a staff astronomer at the Spitzer Space Telescope Science Center at Caltech in Pasadena, CA. Georgia is a Licensed Clinical Social Worker, working part-time for the past year or so. They live in Altadena. Son David has a business (CryptHost) as an Internet Service Provider, web applications designer, and contract programmer. (I believe he dreams in either C++ or Java, as appropriate to the case.) He now lives in Ventura with his girlfriend Sherilyn Tognazzini, who is a doctor in Family Practice; the two of them spent the 2006-2007 year in Boston while Sherilyn earned a masters degree from the Harvard School of Public Health.
Dick attended UCSC in Santa Cruz, graduating in 1985, and currently works for the US Forest Service.
Ginny also graduated from UCSC. She and Michael Brody, of Los Angeles, were married in 1978. Ginny did post-graduate work in molecular biology at UCSC and UC Berkeley, cloning dumpy worms, before settling down to the serious business of being a mommy. Mike entered Boldt Hall after they were married, graduated, and practices real estate law in San Francisco. They have two children: Gabriella, born in 1993, and Benjamin, born in 1996. They live in Lafayette, CA in a most homely house.
After the children were grown, Lucile returned to the University of Oklahoma to finish her degree, and then went on to UCLA Law School, from which she graduated in 1975. In 1976 she became a Public Defender in Fresno, CA where she retired as head of the Juvenile Division in 1990 after a legendary career. "No Deal Lucile", the DA's office called her. Bill married the former Dorcas Stephenson Granger in 1976, who was an elementary school teacher in Delano for many years. She brings two children to the family: Jennifer Granger (husband Doug Bertran, son Reed, and a baby Phoebe born in June 2002; they live in Nevada City, CA), and Mark Granger (wife Lynn, twins; they live in Rancho Palos Verdes, CA).
Bill retired from medical practice in 1989. He and Dorcas lived in Delano until November 2001, but moved in November, 2001 to a smaller house near Dorcas's daughter Jennifer, in Nevada City. He was largely confined to bed during the last few months of his life, but was still very much his old sweet self despite the increasing insults of age. He died peacefully after his supper on Sunday, March 10, 2002, sixteen days after a family birthday celebration that brought us all together. Lucile, now retired, lives in Fresno, with her sister Virginia and a few cats.
---
---
---
Last update 12/11/2007, by W. A. Wheaton